The Strategies that the Sports Equipment Industry Should Adopt in the Green Consumption Era
From FRT.

---
We should have understood this by now that, under the global competition, Taiwan is an island nation that does not have abundant natural resources, but the Taiwanese worked very hard, developed their industries, and won a huge amount of foreign currency at the cost of the environment. Today, however, we face fierce global competitions and arising awareness about the environment. Corporations can no longer fight their own battles but must arrange their management from their stakeholders' perspectives. In other words, they must increase their competitiveness through "Green Management" (Hopfenbeck, 1993; Taylor, 1992; Huang, 1994).
The results of surveys on world energy and resources show that mineral resources such as zinc, lead, copper, nickel and etc. will be fully depleted within about 50 years. The environmental question of how to maintain the sustainable management of the world resources and avoid more waste is a common concern for all developing nations. Since the Industrial Revolution, a large quantity of products has been made to satisfy consumers' needs, apparently raising the standard of living and making our lives more convenient. However, these industrial products have also seriously damaged the Earth's ecological systems and are even threatening mankind's existence.
A corporation's social responsibilities have four aspects (Tsai, 1988): economicresponsibilities, legal responsibilities, ethical responsibilities, and discretionary responsibilities (Figure 1). This shows that the social responsibilities that the public asks corporations to fulfill have gradually been shifted from the economic responsibility of providing jobs to the ethical responsibility that is related to the environment and the discretionary responsibility of being willing to fulfill them. The strategic goals of corporate
organizations have also been shifted from the tradition pursuit of maximum profit to the pursuit of reasonable profits and providing a good quality of life for communities and the society. Such transition further tightens the relationships between corporate organizations, the public, and environmentalists.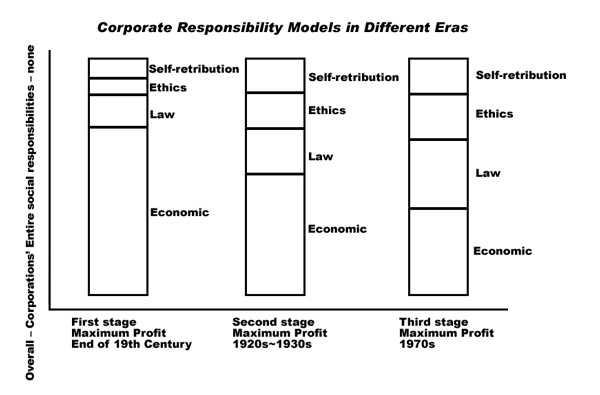 Corporate Responsibility Models in Different Eras
S

WOT Analysis of Sports Equipment in the Green Consumption Era S (strength):

1.

Establish a "Deep Green" Excellent Corporate Image:
Currently our Government's Procurement Act is giving priority to the procurement of green products and has provided related measures. Many governmental organizations and large corporations in Europe and the U.S. are promoting the "Green Procurement" policy and prefer to purchase green products. Therefore, manufacturers who have products that have the Green Seal will enjoy a better corporate image. In order to develop green products, the products should have a reputation of a high quality - this is not only limited to the feature of a product but also includes the manufacturer's long-term environmental record. The incentives provided by the government will also enhance the corporate image, increase its invisible assets, and persuade consumers to purchase the product.

2.

Orientation of Deep Green Products Creates Competitiveness:
Many nations are becoming more careful when formulating environmental laws, and more and more consumers have come to value the environment. A manufacturer of sports equipment should actively satisfy the green demand, focus on their deep green products, and actively respond to the government's environmental measures. This helps separate themselves from other competitors, acquire and win the support of consumers who support green products and eventually will spend more money to buy environmental-friendly products, resulting in the enhancement of the company's competitiveness.

3.

Use resource effectively, improve product quality, and increase product reliability:
A company that truthfully utilizes materials that have the Green Seal and improve their products' quality and values will help the consumers develop a sense of trust and preference toward their products.
W (weakness):

1. Huge amount of required capital: The cost of pollution control/prevention under the certification of ISO 14000 is very high, thus it really depends on what kind of impact environmental management has on a company's operation. Also, it is a challenging task for the industry to acquire enough capital to conduct the related tasks. Better results of pollution control and prevention can be expected if the industry has enough information and money.
2. Difficulty in technical integration:
During the manufacturing process, the up/mid/down-stream companies must all have techniques that are related to green products. They must also work together in order to come up with complete products and services of first-class green marketing.
3. An increase in the production cost:
The cost of product materials is relatively higher, and the manufacturer must invest more energy on the technical development. Price-wise, it is difficult for them to compete with traditional manufacturers.

Fig. 2. The Green Seal
O (opportunity):

1.

More and more environmental demands in international trades:
The environmental demands in international trades in recent years have forced the industry to speed up the development of green technologies. Take the computers that are exported from Taiwan to Germany for example, Germany's new packing laws started requiring manufacturers to be responsible for the recycling of the packaging of their products since 1990. Two years later, they further required the recycling of both internal and external packaging. In addition to the written laws, German importers also asked Taiwanese suppliers to use water-based ink on their packaging and to ensure there must be no CFC, PCB, or heavy metal pollutions in the packaging, transportation, usage, maintenance, and abandoning of the products - those who are at fault must take all the responsibilities. These requirements have forced Taiwanese companies to pursue the path of green products and green productions.

2.

Increasing number of green consumers:
Our personal values have profound impacts on our lives. Values are the standards or principles that drive our behaviors, and there are many literatures that discuss the relationships between personal values, attitudes, and consuming policies. More and more studies show that consumers are not only willing to change themselves for the sake of the environment but are also willing to accept more expensive products in order to support the manufacturers.
Roger Organization, a private polling organization in the U.S., has divided consumers into five categories based on their level of commitment toward the environment:
(1) true-blue greens: the most active green consumers,
(2) greenback greens: willing to spend lots of money on green products,
(3) sprouts: participating in movements that support the environment but are not willing to spend money on green products,
(4) grousers: seldom participating in environmental actions, and
(5) basic browns: most unlikely to get involved in environmentalism.
According to such classification, the top two are true green consumers, and such population is quickly growing in developing nations.

3.

Taking the initiative in the market:
There are currently not a lot of manufacturers who make green sports equipment so there is not a lot of competitors out there. Business owners who have a grand vision should recognize this new trend and actively develop innovative environmental strategies in order to gain the upper hand in the market, lead the market, achieve sustainable development of their businesses and acquire maximum profit.
T (threat):

1.

There are currently not a lot of companies that develop environmental-friendly sports products. R&D teams are needed.

2.

The high cost of environmental products leads to the high price, thus the company may lose the consumers who do not care about whether the products are environmentally safe.

3.

Smaller companies still have difficulties in environmental implementations.
They have less capital, and the initial investment on pollution-control facilities is enormous. This is why they are usually unwilling to invest too much money on such facilities unless doing so is required by the law. In addition to having complete pollution-prevention measures in their own production process, larger companies should also extend such efforts to their contactors and help them in the process in order to be cost-effective. However, this is difficult for smaller companies to achieve due to their limited resources.

4.

Consumers now know more about environmental products and have more demands.

5.

Certain companies lack the skill or training related to environmental protection, and "green marketing" has even become the disguise for certain companies' ill-intentioned behaviors.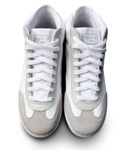 Fig. 3 Agnes B. & Veja Environmental-friendly Shoes
Conclusion of SWOT Analysis
Whether it is different nations' policies or regulations or the consumers' recognition toward environmental products, the world is already at the era of Green Consumption. Based on the above SWOT analysis, we understand that the issue of environmental protection is not purely negative stress or threat for businesses. In fact, it also creates many positive opportunities for them. Therefore, business owners should not treat the issue of environmental-protection as a form of stress that they should avoid, but rather an opportunity that helps them to gain the competitive edge and open up new markets. Obviously, the topic of environmental protection has become the trend that all nations are focusing and working on. We suggest the makers of sports equipment to take the initiative by making green products and engage in green marketing in order to improve their corporate image and increase their invisible assets. Although a significant amount of capital and HR would be required at the beginning, resulting in a higher cost, this would nonetheless improve their competitiveness and create new business opportunities.
Applications of Green Materials
1. Thermo-plastic elastomer (TPE)
TPE has characteristics of both rubber and plastic. It can be compressed or blown into shape with ordinary plastic injection machines. The finished products behave like sulfide rubber under room temperature. The processing of TPE skips the traditional rubber-vulcanization process, and the shaping of TPE can be achieved via injection, squeezing, and molding - common processes for traditional plastic products, and the process takes less time than that of traditional sulfide rubber. The finished products can be reused to save the investment. The process requires less energy and simpler techniques. The duration of processing is shorter, the level of efficiency is higher, the cost is lower, and any remaining material can be recycled, saving cost and is environmental-friendly. This type of materials reduces the amount of money on equipment, energy and HR, creating better competitiveness.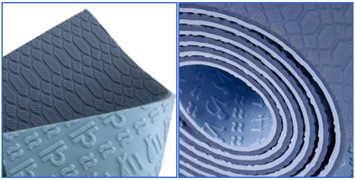 Fig. 4 TPE Environmental-friendly Yoga Mats
2. Light Metals
The development of the light metal industry meets the current global demands for reduced energy consumption, lowered CO2 emission, resource reuse, and clean production. In order to reinforce the competitiveness of Taiwan's light-metal industry, it is important to increase the R&D capacity, including the fundamental development of high-potency light metal. This may include designing the methods of synthesis to create magnesium alloy that stands up to high temperature, designing the magnesium alloy with super plasticity and magnesium alloy materials with cold plasticity which can solve the current problems of weak high-temperature resistance and low plasticity in magnesium alloy. Moreover, the high-integrity aluminum alloy developed via the microlite technology has nano-structures and is three times stronger than the existing commercial aluminum alloy. The structural adjustments of functional aluminum alloy demonstrate different temperature and mechanical features that meet the needs of different new products. In terms of the processing techniques, the concept of near net shape forming has led to the use of new techniques such as semi-solid forming of aluminum and magnesium, high-speed forging of magnesium alloy, and welding/joining. There are also great improvements in terms of size precision, production speed, and reliability. Through the new light-metal materials and new processing, we can come up products that are lightweight, ultra-thin, and resistant to electromagnetic interferences, and have good heat conductivity and good surface texture.
Conclusion
Different nations have now formulated environmental laws and the issue of environmental protection and development are being valued by more and more people. Technologies that are related to environmental protection are being developed to reduce the impact of products on the environment. Environmental laws are also becoming stricter, and mankind is aware of the importance of environmental protection. Therefore, today's businesses must not run away from the issue of environmental protection. In fact, the issue of environmental protection probably has more influences on businesses rather than other organizations and corporate activities are closely related to this topic. Businesses should treat the "green movement" as their mission and improve their environmental-related efforts. This would not only give them better environmental achievements but also give them a new competitive edge.
In addition to the environmental protection measures in product design, production, and the final processing, Taiwan's sports equipment makers must also completely understand environmental regulations and laws that exist not only in Taiwan but other nations - especially those that trade with Taiwan. Moreover, they must also actively participate in activities held by environmental protection organizations in order to improve their corporate image and competitiveness. They should also meet the environmental trend and governmental requirements by implementing pollution-control and environmental-protection efforts and achieve clean products and green products at all costs in order to fulfill their social responsibilities and increase their products' added values.
A business that has environmental management and makes good use of information would surely see the great benefit of being more competitive. Therefore, when all developed nations are asking their own businesses or foreign businesses who operate in their nations to have proper environmental management, we must look into the future and understand that this is not just a world trend but also an inevitable duty since the Earth will eventually be destroyed by us if the situation continues to worsen, and the phrase "sustainable management" would be nothing but an empty dream.
Therefore, business owners must prepare in advance, compile the environmental data inside their companies and use the convenient information technology to transform the data into useful information that can be used by the decision makers. When a company realizes that in order to improve the effectiveness of environmental management, they are already gaining visible benefits in the processes such as procurement, production, and design because they have to choose environmentally friendly materials over toxic ones, improve the product process in order to reduce energy consumption in the process that was using too much energy, and find ways to recycle/reuse their products. This is stress for the company, but a company that uses technologies to achieve innovation and increase its productivity will be able to turn crisis into a turning point, which in turn becomes a business opportunity.
References

1.

Hua-tai Hsue, June 2002, Master's Dissertation, MBA, Chung Yuan Christian University, A study on Taiwanese companies' environmental strategies and effectiveness.

2.

Chi-hsing Yang, 1996, The overall trend and concept of the life cycle evaluation. ISO14000 Second Wave - Life Cycle Evaluation Seminar, MOEA.

3.

Hui-wen Lin, June 2002, Master's Dissertation, Environmental Management, Nanhua University, A discussion on the history of environmental accounting construction and development.

4.

Rui-tse Tu, Chen-fu Chen, 1998, A study on the recycle and reuse of multimedia products of the green life cycle. Dedicated report by National Science Council.

5.

Han-shou Tseng, 1996, The green design in sustainable companies. Design. 7(70), p. 16.

6.

Kuo-ching Duan, June 2003, Master's Dissertation, MBA, Chung Yuan Christian University, A study on Taiwanese companies' environmental management and performance - looking at the awarded companies.

7.

Guang-rong Chen, Jun-chi Yang, Green companies: a new approach to environmental protection (online article). 8. TSRC Co.

8.

Materials Net - Green material: light metal.

9.

Boustead I., 1996, Life Cycle Assessment-The Logical Approach to Decision Making, Life Cycle Evaluation Seminar, MOEA.

10.

Carolien H. & Han B., 1996, Ecodesign: a promising approach, Delft University of Technology, pp.16-21.

Graedel, T. E., Alleyby, B. R. and Comrie, P. R., 1995, Matrix approaches to abridged life cycle assessment, Environmental Science & Technology, Vol.29, No.3, pp.134-139. Mark G., 1994, Life-Cycle Analysis for designers, Europe Design Center Ltd.