---
According to the SGMA production value statistics of global sports and fitness products, it is estimated that, up to 2007, the production value of sports and fitness products may reach to $72.1 billion, occupying around 38% of the total production value of sports and fitness industry. Based on the statistics, the global demand for sports and fitness products remains tremendously high. The reasons are one, the awareness of health and fitness is being enhanced, plus that our average longevity is extending, hence that the sports and fitness industry plays an important role, both at present and in the future, that requires aggressive investment of resources and R&D.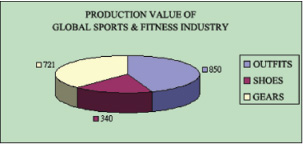 UNIT: $100 MILLION
After decades of development, sports gears have evolved into the stage of being "user-friendly". Moreover, along with the increasing recognition of user friendliness, the user-friendly design concept has remarkably increased the added value in sports gears in the US. Practices by several major manufacturers in the US have viably and efficiently promoted the design innovation and capability of fitness industry, as shown below:
1.Health Solution and Safety Requirement in Sports
From the trends carried by the world-leading manufacturers of Lifefitness and ICON, it is obvious that in the past 3~5 years, there has been a growing demand of user-friendly


From

sports technology in product design. For example, elliptical trainers from Lifefitness has been focusing on the concept of smooth, natural motion and low-impact, eliminating the blind spot in design which required the human body to adapt the trainer hardware.

In recent years, Lifefitness started their analysis and research on basic motions of human body, including cycling seat pressure distribution analysis, pedal pressure distribution analysis, etc., as illustrated below:


From
Said trends carried by major international manufacturers suggest that, in the future, the focus of aggressive investments from every major manufacturer would be sports technology, which would optimize the user-machine interface and provide comfortable, user-friendly and injury-free solutions, as well as establishing industries related to sports technology, so that the sports and fitness industry would provide us with healthy sports rather than uncomfortable, forced exercises.

2. Advancing Prevention Medicine by Applying Biomechanics Analysis of Skeleton and Muscle
To evaluate the comfort and efficiency of a fitness/workout gear, the design concept should set objectives in the human mechanics and exercise physiology. As shown below, Lifefitness, Cybex and other major manufacturers have invested remarkably in the integration of related theories in human exercise and the design of sports gears in order to maximize and optimize the exercise efficiency and eliminate exercise injuries, hence promoting their product quality and market competition capability.

3. Integration Technology of Advanced Materials Application and Electromechanical
The integration of material application and electromechanical system has direct impact on the intension of users. Proper material application would not only improve the build quality of sports gears, but also play a key role in exercise injury prevention. Apart from the provision of stable control interface in sports gears, electromechanical system helps to improve the added value of gears with its multimedia capability.
The AMT from PRECOR is a cross sports gear with electromechanical integration. Its appearance and partial motion trace is shown in the picture at bottom left. AMT provides a variety in exercise configurations, which offer exercise capacity for various muscle groups and, with its user interface, the interaction of exercise intensity at relevant muscles groups in exercise.

There is a necessity for the development and investment in the added value of fitness industry. According to the statistics of sports gear market from Global Industry Analysis, there is a growing demand for sports gears in America, Europe and Asia. In respect of the research on sports gear design in the US, two types of innovative, highly value-added sports gears are presented as the following:

From

1. Stretching Type - Lifefitness Summit Trainer
Based on stretching exercise, plus the natural exercising positions of human body, Lifefitness created Summit Trainer series. Most current sports gears emphasize on the enhancement of muscle strength, while remain in lack of the focus on stretching related exercises.
By offering five exercising positions (two of which is shown in pictures below), Summit Trainer series challenge exercisers at their lower body with stretching and strength training. The intensity of stretching and strength exercise at lower body is determined by the extent at which the exerciser leans forward - the more he/she leans forward, the more intense the exercise becomes.
From


From

2. Combined Type - Precor AMT
With a special design, such gears are capable of adapting adjustment in accordance with the exerciser's movement traces. Therefore, its exerciser would not be limited to any single configuration of sports. AMT is capable of providing exercises to various muscle groups. In addition, along with adjustments in movement traces and configurations, the exercise intensity at muscle groups varies as well, while the AMT presents the scale and changes of exercise intensity with its user interface.

It has been quite a while since the emergence of sportsgear industry, and it is urgent to promote its added value. Investigation reveals that customers are increasingly demanding on the build quality and features of a product; only the ones with innovative design and concept appeal to customers. Current consuming markets no longer regard low pricing as the priority; the importance of functionality and fashionable appearance, along with the increasing recognition on living quality, advances day after day. Consequently, as long as the focus on "human" is set, the design and manufacturing of sports gears are expected to see phenomenal increases in the added value.
---