by Di-Yen Chen (陳締燕)
Researcher of Footwear & Recreation Technology Research Institute


The global trend of "Lifestyles of Health and Sustainability (LOHAS)" is embedded with the appeal of environmental protection symbolizing the LOHAS core value - "Sustainability." Over recent years, various countries in the world have realized the importance of environmental protection profoundly and contributed efforts to establish environmental protection organizations, to set laws and to implement punishment on international trading to prohibit exhaustion of natural resources and continuous damage to ecology. The Sport-Leisure Industry (SLI) is profoundly affected since "Environmental Protection" is no longer just an option for enterprises. Instead, the ones that cannot keep up with this green trend will be eliminated.
Facing the enormous pressure of global trend on environmental protection, the enterprises can adopt the passive strategy of obedience (i.e. to be compliance with current regulations on environmental protection) or actively integrate the measures of environmental protection into the core value and system. The later allows converting the pressure of environmental protection into the enterprises' advantage in competition and turns the issue of environmental protection from crisis to opportunity, which is also the spirit of green management.




The major prospects of SLI include the production process that is environmental friendly, use of green material, and adoption of green and energy saving product design:

1. The green label represents commitment to environmental protection and consumers
Along with improvement of consumers' consciousness, the knowledge on environmental protection is no longer limited to the environmental friendliness of the product's material. Consequently, the environmental friendliness during production process is also valued extensively. Therefore, certain manufacturers already set their own green index. The main content of index includes proportions of usage for recycled raw material, recycle capability, hazards chemicals and the amount of CO2 emission (electricity and water consumed) during production process for the product. Although the truth of content provided in the green index fully depends on manufacturers' discipline and integrity, the transparency of product's life cycle toward influence to environmental protection represents commitment from the manufacturer to environmental protection and consumers' trust.

2. Reusable, bio-decomposable, naturally organic and non-toxic characteristics are the trends for R&D of environmental friendly materials
The trends for R&D of environmental friendly materials mainly focus on the reusable, bio-decomposable, naturally organic and non-toxic characteristics:

2-1. For shoes, the polyolefin is easy to be recycled and its performance in physical property is close to EVA. At present, the oxidation and biological decomposition of polyolefin material have already achieved good results. Yet since the shoe materials can only present well physical property through bridging reaction, certain manufacturers have invested the research on oxidation and biological decomposition, which will provide great contribution to environmental protection if fine results are obtained. Furthermore, the product of Thermoplastic Polyurethane (TPU) is easy to melt with heat and recycled for use. The hydrolysis time is several times longer than the two-liquid PU for long durability, thus the TPU is predicted to be the mainstream of shoe materials in future and worth to be developed by manufacturers.

2-2. For application of organic and non-toxic materials such as organic cotton, corn fiber, bamboo fiber and Soybean Protein Fiber (SPF), SPF has the comfortable ventilation of natural cotton fiber, wool, silk and yarn, as well as the characteristics of synthetic fiber that does not wrinkle, shrink and deform easily. During the process of fabric production, treatment, use and disposal, SPF induces no toxic hazard to human body and the environment; furthermore, it provides luxurious appearance, excellent comfort, well color dying, satisfactory mechanical performance and fine function of health care, which makes SPF the focus among international textile market.

2-3. The 4 major synthetic fibers at present, namely the Poly Ethylene Terephthalate (PET), Nylon, Acrylics and Poly Propylene(PP) are all synthesized from petrochemical products as the raw materials, which are stable in physical and chemical properties, but contain problem of non-decomposable waste after use. Since natural fibers such as cotton, wool, yarn and silk are lack of the specific performances of synthetic fibers mentioned above, the Poly Lactic Acid (PLA) of biodegradable polymers currently is equipped with advantages of both synthetic and natural fibers. The raw material of lactic acid can be obtained from corn plants and the product of PLA will be decomposed to water and CO2 under certain temperature, PH and water content. Thus PLA is an excellent material for environmental protection that can be applied as body of sport equipments, hand phones, toys and home appliances.
SPF - The new fiber that is healthy, comfortable and environmental friendly in 21st Century
(from: www.textiles.org.tw/)
Material for Poly Lactic Acid (PLA) from: http://www.2wplastic.com/pla_resin.htm
3. The sport-leisure appliances with energy conservation and green application are new goods under spotlight
In addition to developing more efficient way of sport to attract consumers, the indoor sport equipments must also be designed with energy conservation and green application, e.g. the application of brushless and permanently magnetic motor and generator. The brushless and permanently magnetic motor can be used for commercial or high-tier household running machines. The brushless and permanently magnetic generator can combine with various training systems such as fitness bike, elliptical machine, stair climber and rowing machine that require control of resistance. Both the motor and generator have the advantages excellent efficiency, small volume and long lifetime (comparing to brushed generator).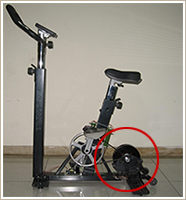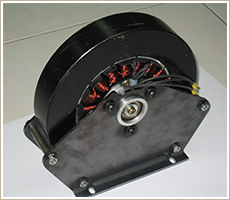 Self-generated bike and generator (from: FRTRI)
In addition, the use of outdoor leisure products combines with green energy (e.g. application of hub or solar chip) for design of dual generator (with hub or solar energy) pack for bicycles, accessory tent charged with solar energy and vehicle charger that switches use of disposable batteries. With these applications, there is no need to carry heavy equipment for charging electricity and no more worries about insufficient batteries, so the user can enjoy the fun of outdoor leisure with greater convenience.
Dual generator (with hub or solar energy) pack for bicycles (from: FRTRI)
Establishment of green stadium
There are thousands of routine games held in various stadiums worldwide every year. Take the Major League for example, approximately 79 millions of audience per annum would watch baseball games at the stadium. While the stadium provides recreation and leisure, it also consumes considerable amount of resources at same time. In view of this, the trend to "Go green" also emerges among stadiums nowadays under the focus on energy conservation and carbon reduction for environmental protection.
For the main stadium of World Games 2009 in Kaohsiung, regenerated and 100% reusable construction materials were used for all structures and all materials were made in Taiwan, which revealed the industrial standard of Taiwan. The roof adopted 8,844 glass solar panels as canopy of the stadium, which cannot only achieve 70% shading effect, but also
produce 1.1 million degrees of electricity and reduce 660 tons of CO2 emission per annum. In addition to provide stadium lighting and air conditioning during game season, there is even excessive electricity for selling back to the power plant. At present, the main stadium of World Games 2009 in Kaohsiung has the largest capacity of solar power system in the world. Since Kaohsiung is located in southern Taiwan with sufficient sunlight, the solar energy can be utilized sufficiently to highlight green technology, as well as providing the public a space for activity in the stadium with diversified functions such as sport, leisure, entertainment, shopping and interaction.


The green stadium - Main stadium of World Games 2009 in Kaohsiung
(from:http://www.worldgames2009.tw/wg2009/cht/Venues_connect2.php)
Extended Producer Responsibility (EPR) is the trend of environmental protection regulations
Along with attention from various countries worldwide on environmental protection, the setting of environmental protection regulations has become progressively strict. From waste incineration, landfill and recycling at initial stage to environmental friendliness of products requested by law currently, the EPR is adopted as the spirit of legislation. The producers must guarantee that the products will not cause contamination and burden to the environment from acquisition of raw material, production process, delivery till sale to consumer and will be recycled after disposal. The producer's responsibility only ends after completion of the product's life cycle. In the past, the producers or distributors carry no responsibility after selling products to the consumers. Yet since the consumers or Government cannot control the product quality and disposal method, the producers shall bear the extended responsibility of recycling the product and consider adequate process of scraping the product right at the design stage for social responsibility and optimal efficiency. The environmental impact can only be reduced properly by taking actions from resource reduction and green design.
Taking the eco-design requirement for Energy Using Product (EUP) as example: The requirement was announced by EU in 2005 and became valid since 11 August 2007. It specified that EUP must be designed to be more energy conservative or the qualification label would not be granted and the marketing of such product would be constrained in EU market. The EUP specified under eco-design requirement are estimated to occupy 40% of global CO2 emission during production process.
The product "Design for Environmental (DfE)" is often mentioned recently in the trend of green design. The so-called DfE means that the product causes no hazard and burden to the environment from production to disposal stage. The three major directions contain "low toxicity" (e.g. prohibition of toxic metal), "low energy consumption" and "low resource demand" (e.g. reduce waste and recycle to reuse), which comply with EU's three major legal requirements, namely the Eup, WEEE and RoHS.
Conclusion
Environmental protection is not merely a temporary trend but an issue that all mankind must confront seriously since it affects our living environment and industrial survival. The core value of SLI is that consumers pursue for physical and spiritual health and entertainment. As quoted from the motto of Patagonia (American Outdoor Appliances): "There is no business on a dead planet", people cannot go mountain climbing, rock climbing or surfing if all mountains and oceans disappear, and so an outdoor appliance company will fall. If mankind becomes ill in the damaged environment, vast amount of resources will be wasted in medical aspect, the companies of indoor and entertaining sport goods will also be affected tremendously. Therefore, enterprises need to be equipped with long-term vision of environmental protection and not to be limited by the current regulations. The environmental protection regulations will be adjusted at all time along with the technological development, consumers' consciousness, political, cultural and natural environments. If the environmental protective measures from enterprises are only provided to satisfy the current international treatment and domestic laws on environmental protection, there will be necessity of revision along with adjustment of environmental protection regulations at all times. In this regard, enterprises may easily commit illegal operation due to failure to comply in time; thus all strategies set and measures implemented must exceed current standard, so it can attract more brand recognition to the consumers and expand the market scale.
References

Introducing the Green Index™ Rating, http://www.timberland. com/corp/index.jsp?page=csr_green_index

Tsi-Yuan Huang (黃賜源), "Theory on environmental friendly shoes"

Environmental friendly textile - Market status and development prospects on competitiveness of SPF, Taiwan Textile Federation.

Shao-Chuan Hsieh (謝紹銓), "Bio-decomposable fiber of PLA." TMMFA (http://www.tmmfa.org.tw/)

Ta-Wei Lai and Wen-Ping Tsai (賴大渭、蔡文彬), "Application of brushless and permanently magnetic generator on indoor sport equipments," Electricity Monthly, Vol. 224, August 2009

World Games in Kaohsiung (http://www.worldgames2009.tw/ wg2009/cht/Venues_connect2.php)

Greed field (http://sunpaul2.pixnet.net/blog/post/20721923)

Portman, "EPR - Discussion from EU's 3 major environmental protective directives," Environmental Information Association

"Advantages of green enterprises," MIS section, Department of Logistic Management, Fortune Institute of Technology (http:// tw.myblog.yahoo.com/jw!vb9dZm.aFRuZHBstKcjgSLxSjVY-/ article?mid=76)

Chian-Ying Wang (王茜穎), "The coolest company in the world - Surfing during office hour!," Business Weekly, Vol. 1064