The world economy has developed from traditionally labor-intensive 'Hand Economy' to the high-tech-integrating 'Mind Economy' and then the quasi design-and-creativity 'Heart Economy.' Among the mentioned types of economy, 'Mind Economy' and 'Heart Economy' both are typically knowledge-based economies. And Taiwan's sporting goods have been regarded as one of the important and traditional export-oriented industries. Accordingly the sporting goods industry has been grouped into the circle of "traditional industries." However, once the so-called 'traditional' sports shoes are installed with sensor chips, will you regard them as traditional or high-tech? As traditional fitness equipments are developed with new sports science, they become more efficient. Do you take them as knowledge-based sports equipment or not? Though innovation does not necessarily come from technology, it is certain that the application of technology will spotlight the innovative concept of sporting goods. Though economic development is not necessarily based on knowledge, the knowledge-based economy is surely the trend for a better and bright future. Taiwan's sporting goods manufacture has gone through decades-long development, growth, transformation and upgrade. At present, on the global market, Taiwan has become one of the most important supplying countries. In the meantime, Taiwan also steps into the phase as a developed country which produces high-added-value sporting goods. In order to upgrade our sporting goods industry, it needs to cooperate with technology industry. And it is necessary to changes from the traditionally labor intensive 'Hand Economy' to 'Mind Economy' to carry on OEM with modern technology or even high up to the R&D-focused and innovative 'Heart Economy.' Nevertheless, for enhancing the domestic sports-related industries to the level of 'Knowledge-based Economy,' we have to make a break away from the current bottleneck challenge; that is, there is a shortage of innovative sporting products. There shall be more R&D on product development. Thus, Taiwan's competitiveness could be strengthened. Even, we can create Taiwan's own brands to open a new door into the international market.
Observing the future development of the global sporting goods market, branding centralization will most likely be the major development. In addition, the global marketing develops simultaneously. Brand-building or expending is the vein of the high-end or middle-priced sport products. As statistics indicates, 85% of the global sporting goods sales rely on brand marketing. And the rest 15% of the business are of retailers or wholesalers, or brand distributors, such as Nike Sport Shoes, Giant's bicycles, Victor's badminton rackets and other equipment, etc. Therefore, looking the overall sporting goods market, the centralization level of sport brands is not high. As estimated, the sales turnover of the first ten brands does no reach 20% of the global sales. Thus, we could foresee the centralization will go up, particularly Nike, Adidas and other noted sport brands. In one way, brands continue to expand production lines with advantages; for example, Adidas enters the fitness equipment market with its sport shoes and sportswear. Puma also joins the bicycle market. In the other way, they also do business with OEM or ODM so as to purchase products of quality and/or at highly-competitive prices. In accordance with solid finance in broad promotion and advertisement, they open new market channels and strengthens consumer service. Likely on the sporting goods market, brands might get larger and stronger. Moreover, due to the modern communication technology and transportation, the global market and products will step towards similar directions. Thus, the life cycle of products will shorten its development. Retailers will shorten purchase stage in order to avoid the risk of stocks. As a result, the capacities of R&D, new release of new products and fast production pose as great challenges for the sporting goods manufacturers.
Taiwan's sporting goods industry has been developing for decades. Its strong and quality production has hard-earned a good name. Many Taiwanese business people commonly practice this international strategy: To remain the head office in Taiwan so as to manage core-competitive marketing, R&D, and high-level product processing by using the production power of their overseas producing bases. Nevertheless, at present, the government and the private sector shall put more focus on R&D and innovation capacity. Ideally, a sports-function-featured R&D center shall be established so as to collect the R&D power from the related academics. Further, we shall bridge the cooperation between the industrial sector and academic professionals. Thus, high added-value, functional new sporting products could be developed and put into production lines, that is, high-quality, good-design and high-priced new products. If so, Taiwan's sporting goods can remain its advantageous competitiveness on the international market. Let's take Nike as an example which put modern technology into the traditional design of sports shoes. Nike Sport Research Lab in Oregon, U.S.A. is a typical model as "The academic energy in industry" Inside the Lab, there are more than dozens of doctor-degree researchers and the most advanced equipments. Compared with many other top labs at top universities all around the world, it is indeed incomparable. In one way, the Lab provides non-stop, innovative ideas or concepts for producing sporting goods. In the other, it is also a professional guarantee from Nike for all its products. Such a concept is not only applied by international mega sports brands. In the other fields, there are also countless examples, such as Microsoft. It has established its own Microsoft Research Asia, another typical example. Our domestic sporting goods industry also applies the similar strategy while stepping into the phase of bottleneck. For instance, one well-known Taiwanese badminton producer, named Victor Rackets Ind. Corp. (brief as Victor) recently also invests in the establishment of a sports equipment laboratory where sports biomechanics research and experiments are carried out and the results are taken as the theoretical basis of Victor's products. Additionally, the results would be as reference for functional development and design. In combination of the current material development and production technology, Victor aims at developing and design more efficient, low risk of sport injury and better sport performance (see Picture 1). During the developing process, experiments would be carried out and the analysis on the vibration response of badminton rackets, the coefficient of restitution and other characteristics. Based on the experiment and analysis, Victor can reach the technology to infuse the reinforced features into its racket frames by making good choices of materials and other functional design elements in its products as remarkable technology indicators. As a matter of fact, Victor, with strong R&D base, has leading racket-producing technology. So Victor undoubtedly has the chance to reach highest sales turnover in the world in the future.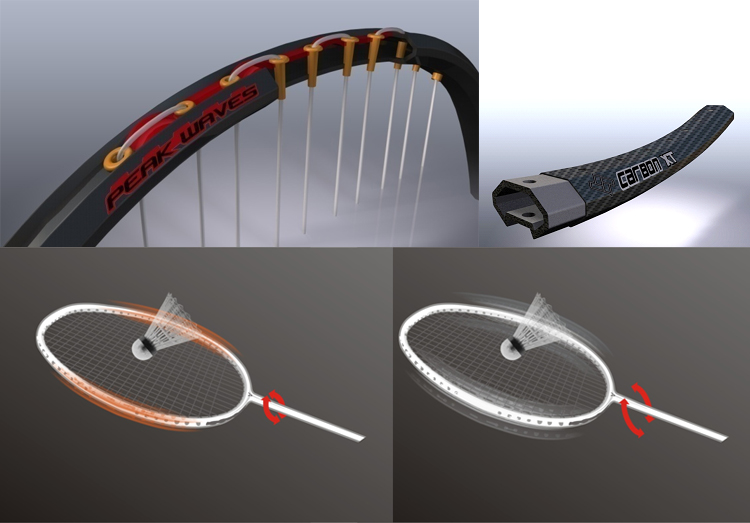 Picture 1
Badminton racket is an example of the combined developments of material and sports technologies so as to reduce sports injuries and enhance sports performance
Nike has solid and strong financial base. It shall not be difficult to create a perfect pair of sports shoes. However, Nike turns to academics to ask for assistance. What Nike has done is a typical case of "The entrepreneur energy in academic." Nike's headquarter R&D Centre dispatches relevant researchers to take part in international academic conferences. They join the discussions and get informed on different kinds of professional sports shoes and their special functions and designs. Furthermore, they are also managing cooperation with different sports science institutes all around the world. The main purpose is to carry on research and development on all kinds of sports shoes. In Taiwan, there are also similar successful cases brought out by the entrepreneur-and-academic cooperation. For example, Titan, a domestic sports sock brand, in recent years also cooperate with sports science research institutes to develop functional sports socks. Biomechanics is in combination with textile technology to develop new textile products. From the aspect of sports biomechanics, Titan designs and produces new kind of jogging sporting socks. During the design and developing process, Titan also carries out experiment analysis. They analyze the immediate impacts of different kinds of sports socks, that is, the test subject puts on different kinds of socks and goes jogging and different pressure distributions, ground reaction forces on the foot as well as the lower limb control capacity are recorded. During exercise, rear heel and fore foot parts take the most pressure. During jogging, feet react by heel strike and fore foot push off. The cushioning ability of feet plays an important role in the sports performance. The special cushion design of the functional jogging socks not only protects the fore foot and heel. In the meantime, this design also reduces the pressure distribution (see Picture 2). Thus the ground reaction force on foot will be distributed evenly and the chance of sports injuries would be greatly reduced. Moreover, this cushion design also decreases the muscle fatigue and increases comfort feeling. Titan leads the future vision and innovative concept with mature production technology to advance to high-end phase: high quality and special functional sports socks development. It marches towards less quantity, multiple choices of high-priced knitting socks. From the market reaction, it indicates that consumer has high demand of innovative and functional sports wears and equipments. It is vital to evaluate the academic research results and apply them to the development of sporting goods. It can certainly create new echo and new market and demands.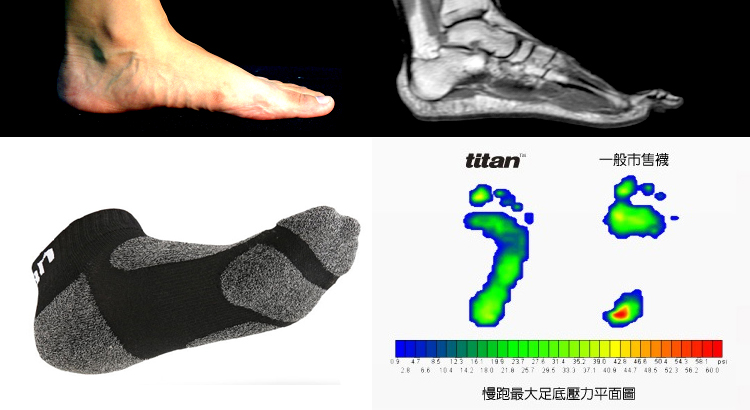 Picture 2: Titan develops a new kind of jogging sports socks from the sports science aspect.
As an old Chinese saying: A workman wants to do his job well; first he has to sharpen his tools. For the kinds of sports games which require sports equipments, the equipment design plays a key role in the sports performance. They are not only the skill competitions among sportsmen and coaches but also the design competitions among the equipment designers. Nowadays technology advances day by day. The equipment design and R&D also make remarkable improvement. Designers use all kind of precision instruments and computer assistance. Hopefully we can combine sports science, material technology, design and R&D and manufacturing capacity and relevant fields to develop the best sports equipments. The global leading sports brand, Nike, not only has the best "Academic energy in industrial" but also make the most use of "Industrial energy in academic" Taiwan's Victor's Badminton Racket and Titan's Jogging Socks are running business on different scales in different sporting goods categories. They all recognize the importance of R&D and keep on investing in it. They actively search for professionals from the academic fields or cooperate with sports professionals. Based on the past sports experience and modes, R&D on functional sports equipments could be materialized through the entrepreneur-and-academic cooperation. It can prove that academic energy can be utilized to the most extent in the sporting goods industry. Indeed, such a phenomenon shall be taken as important strategy for all other industries in Taiwan. At present many domestic industries have faced the same challenge in the industrial development. As publicly known, most domestic industries started from manufacturing. It is essential to well use the academic energy and brain power to bridge industrial advantages and academic energy for a better and brighter future. And only doing so, the entrepreneurs can move upward and stabilize bases in the next waves of competition with an in-replaceable international status!