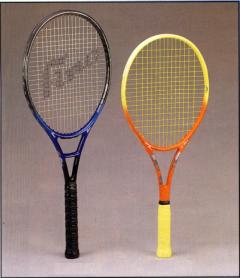 During the 1980s, some Taiwan-based tennis-racket manufacturers began to utilize polymer materials and specialized manufacturing processes to produce own-brand sports equipment, such as tennis rackets, golf clubs, and fishing rods. These products quickly gained a leading position in markets around the globe.
In the 1990s, due to the steady appreciation of the New Taiwan dollar and rapidly rising labor and land costs, many manufacturers in Taiwan, including those in this line, adopted the so called "parallel policy", i.e. developing and producing high value-added products in Taiwan, while moving labor-intensive and low value-added production to countries where production costs would be substantially lower.
Taiwan's sports-racket industry also switched its business strategy away from price competition to that of targeting niche markets.
Because of the exodus of local producers in this line, exports of Taiwan-made tennis and badminton rackets have been declining since five years ago. The export value of locally made tennis and badminton rackets continued to decline in 1998, reaching only US$28.377 million, down 36.5% from the previous year's US$44.693 million. This contrasts with the early 1980s, when tennis and badminton rackets were the fastest rising category in the sporting-goods industry with quality and product research capabilities surpassing world standards.
At that time almost all of the internationally known companies entrusted local producers to turn out products for them on an OEM (original equipment manufacturer) basis. In recent years, however, local makers have relocated their production bases to mainland China or Southeast Asia.
Because of its financial trouble in recent years, Kunnan Enterprise Ltd. is still restructuring. Thanks to the infusion of new funds by some domestic sporting-goods manufacturers, the company still has strong potential, in view of its ability to develop innovative compound materials for tennis and badminton rackets.
Several months ago, creditor banks appointed Peter Liu as the general manager of the restructuring Kunnan. Liu is the president of European Sports Enterprise Co., a well-known manufacturer of skates in Taiwan. "Before Kunnan fell into financial trouble, Kennex-brand sports rackets had been a glory of Taiwan's industrial sector for a long time," Liu says. "The Pro-Kennex brand represents the entrepreneurial skill and the innovative essence of Taiwan's manufacturers.
Capital Injections
"To salvage the company from sinking deeper, I decide to revitalize it by injecting my funds and operating philosophy. Many of my friends from domestic conglomerates have been trying to talk me into letting them into Kunnan as shareholders. As a result, Kunnan someday will stand on its own feet again in the world sports market.
"From now on, Kunnan will concentrate on the development and manufacture of sports rackets and golf clubs and relevant accessories, rather than adopting a diversification strategy."
Despite its financial troubles, Kunnan has never stopped developing new compound materials to enhance the functions of the sports rackets. In mid-May, Liu announced that Kunnan is close to completing R&D on a new compound material for use in the production of lighter and tougher rackets. "By employing the new compound material, the racket is tougher than steel wire while weight is only one tenth," Liu says proudly. "Besides sports rackets, it can be applied to many other items."
With four assembly plants--one in Taiwan and three in mainland China--Kunnan has branch office and marketing agents in 66 countries. It also has delivery warehouses in Europe, mainland China, Australia, and the U.S., and plans to open one in Japan by the end of this year. Liu intends to raise the Kunnan's brand image to a level on par with Nike within five years. Kunnan has been vigorously expanding its presence in mainland China by sponsoring the mainland's national junior badminton team. "Kunnan's presence in mainland China has been very successful," Liu states. "We can sell 100,000 garments with Pro-Kennex logo, which proves we have established a good reputation in that massive market."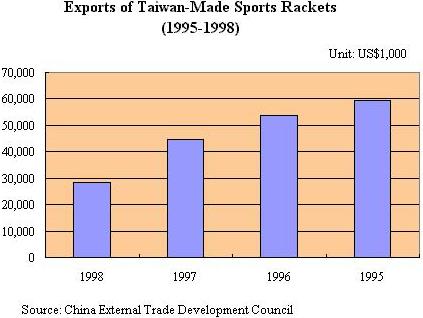 Liu says that although Kunnan is currently restructuring, a great amount of orders are still coming in. "Even if we have to delay shipments for eight months, customers are impatient to see our new products, indicating that the quality of our products are greatly assured," Liu says.
Currently, Kunnan is actively developing accessories of sporting goods in an effort to strengthen its operating essence. It has invited several world-renowned designers to develop a variety of sporting goods accessories bearing Pro-Kennex logo.
JREX Enterprises Corp. allocates its output of sports rackets according to the number of those in selected "sports populations." Currently, badminton rackets account for 70% of its total output, tennis rackets take 20%, and squash rackets take the remaining 10%.
With its Bronco and JREX brands, the company turns out sports rackets using a wide range of materials, including graphite, aluminum alloy, and iron. The output of medium-price badminton rackets made of aluminum alloy makes up the majority of its total production.
"Over the past several years, most of the largest-sized sports- racket makers have moved to mainland China to continue large- quantity, small-variety production," Peng Chin-tung, vice president of the company, notes. "Those who still keep their roots in Taiwan are small- and medium-sized firms. With the advantage of less production costs, Taiwanese racket firms in mainland China have threatened the existence of local firms. Taiwan's firms in this field have to target niche markets to stand firmly in the world market."
Only High End
To combat the threat of mainland China plants, JREX only produces high-end rackets. "We have to use our advantage to produce the products with the production style of small quantity in various kinds," Peng says. "For such a production style, only small- and medium-sized firms can continue their manufacturing operations in Taiwan."
JREX is currently establishing a consolidated marketing network in Taiwan. "As Taiwan will soon enter the World Trade Organization, we have to face tougher competition from foreign nations," Peng says. "To prepare for this changing operating environment, we are enhancing our presence in the domestic market by setting up a sounder marketing network here."
To expand its domestic market share, the company is stepping up the sales and production of many sports accessories to enrich its product line. These additional product lines include skates, protectors, balls, water-sports equipment, and goggles.
The company has encountered sluggish sales over the last 18 months. But in the last three months the company has seen improved export orders. "Because of the financial crisis, buyers from the world over were conservative about placing orders," Peng explains. "Since the beginning of this year, the international buyers began to place orders because they were running low inventory. However, the continued influx of orders will depend on the recovery strength of the world's economy."
Shinehome Ind. Co., Ltd. became involved in the manufacture of various kinds of sport rackets about 18 years ago. Seven years ago the company moved to Hueiyang, Quangdong province, mainland China. Nevertheless, the company keeps its headquarters for receiving export orders, sourcing materials, and developing innovative products, in Taiwan.
The company primarily turns out tennis, badminton, and squash rackets for overseas manufacturers on an OEM basis. The company is capable of producing rackets with various kinds of materials.
"We are capable of turning out titanium alloy rackets, but we still focus on the production of the products made of aluminum alloy and carbon fiber," sales manager Steve Lee says. "The market for titanium rackets is so small that we have little desire to get involved in the production of these types of rackets."
With a manufacturing plant in mainland China, the company has to purchase materials from Taiwan. "The quality of Taiwan-produced materials is much better than that of mainland China," Lee comments. "To maintain steady quality in production we have to source materials from Taiwan to facilitate our mainland production."
Weak Marketing
"Except for manufacturing, Taiwan is still an ideal place for material sourcing," Lee comments. "In addition to high-quality materials, Taiwan also has a huge pool of talented designers. It's a pity that Taiwan is very weak in international marketing. That's why the international racket market is dominated by some internationally renowned brands from Europe, the U.S., and Japan. However, local producers in this line can use their advantage in design to make up for the insufficiency in marketing."
Currently the company has seen an 85% capacity utilization rate in its mainland manufacturing plant. "This means that we have seen our business turn better because the rate was less than 80% only last year," Lee says.
Badminton rackets dominate the company's output. "Over the past several years, the badminton population worldwide has shown a steady increase," Lee says. "But in the same period the global demand for tennis rackets has been declining because some tennis players have gradually shifted to golf. The world market for squash rackets is so small that no producer here can count on this product for survival. Accordingly, I think in the next few years badminton rackets will remain the most promising item among these three items, and it will be theS only item to see a growth in sales."
This year the company will participate in internationally renowned sporting-goods shows in Hong Kong, Germany, and the U.S. Founded in 1977, Tai Jyue Industry Co., Ltd. specializes in the development and manufacture of various kinds of sport rackets, such as badminton rackets, tennis rackets, and squash rackets. Main materials are carbon fiber, titanium alloy, iron, aluminum alloy, and high-modulus graphite.
"Aluminum-alloy sport rackets still dominate the global racket market. As a result, the majority of our production goes to the aluminum alloy rackets," Chen Yo-wei, sales manager of the company, says. Two years ago the company bought out a furniture manufacturing plant in Dongguan of Guangdong province in mainland China and shifted its manufacturing facilities there to produce medium- and low-price rackets on an integrated production line.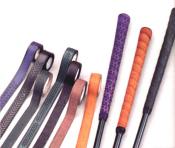 Through technology transfers the company has seen its products made in mainland China to show similar quality to those made in Taiwan. "Compared to locally made rackets, those made in mainland China are priced 20% lower because of the lower production costs there," Chen says.
Despite the start-up of the mainland plant, Tai Jyue uses its Taiwan plant for the development and production of high-end rackets. "Taiwan has many high-quality satellite processing plants to support our production of high-priced rackets for the global market," Chen explains. Over the past few years the company has been developing high-end products. At the end of last year, the company began turning out titanium-alloy tennis rackets. "We employ titanium-alloy materials to make high-precision products to tap into the global high-end sports-racket market," Chen says. "We also made improvements in packaging to attract new customers."
This year the company will participate in the international sporting goods exhibitions in Japan, the U.S. and Germany.
Chen says his primary competition comes from mainland China and Taiwan. "Many producers here are capable of mass producing high- end products. We have to compete with them in the international market because the majority of these products are exported," Chen says. "In mainland China we meet competitors for the exports of medium- and low-priced rackets."
Despite the global economic recovery, Chen doesn't think the racket industry has been on the recovery road. "Sports rackets always lag behind overall economic recoveries by several months," Chen comments. "We didn't enjoy sales growth last year. But I believe that we will see a more promising business this years because of the vivid economic recovery."(Also in TSMA YearBook 1999/2000)